BackGround Story
                           The Caloocan Crime Syndicate is on its way to the top: money extortion, drug sales, corrupt cops, illegal weapon sales ... Basically every filthy way to earn money is in the pilipino`s hands. Shawn Smith with his goons Gello Rayleigh,Jansen Rayleigh,Jean River and  Dave Smith is holding Los Santos in his fat hands. It would all had lasted forever if the top people in the Police Department had not er uncovered by the FBI and arrested for deres relationship with the Pilipino, and with att all the organization was investigated and chased by the federals. Shawn Smith escaped the country and all of Gello brothers were arrested.
Few years went by, and as time passed some of the old police officers got reinstated and money talked once again: Gello Rayleigh and Dave Smith  were released from San Fierro maximum security jail in summer 2016. Media followed their release and it was said to be one of the biggest cases of corrupt politicians and cops working together, after all Jean River`s still had contacts willing to risk themselves for them. As soon as Gello Rayleigh got out he started reestablishing connections and trying to set his other
brothers free with no success at all, he is still trying to contact people higher and higher on the government institutions but those other Jean River goons won't be out anytime soon. After several investigation and cash wasted on detectives, Shawn Smith is nowhere to be found yet.
Gello Rayleigh and Dave Smith moved on, made a trip back to Los Santos and started all over again. Being free men but with all their money wasted on lawyers and other things connected to jail stuff. They could only thing of one thing: "Luxury won't pay itself" they needed to make money to keep up with the life style they loved, and enjoy what they had been missing all this time in jail: drugs, cars, houses, women and party. Everyone in Los Santos streets knew they were up to no good.
It was a crazy night in the Alhambra club, Dave Smith was drunk and trying to buy cocaine (for half of its price, like always) and Gello Rayleigh was shaking his head in some whores tits, when two guys entered the club; their names were Jansen Rayleigh , Jean River. They sat right across the Shawn's table, destiny is a wild card, had they sat anywhere else nothing of what was coming would've happened ever. The night went on, and more liquor was purchased, they got into talking, sniffing and a few other things together with the Shawn brothers. A friendship started on that filthy night. The most important thing was what they all had in common, they were hungry for cash, and they were not engineers or had any of those fancy jobs; they were gangsters, old school and wise gangsters. Days went on and Los Santos was struck by an unprecedented record of crime: robberies, car hijacks, illegal sales, extortion, and kidnaps were flourishing. They really got it all working together, and more people joined as the organization grew. Old friends came back, Pilipino moved in, and in less than 2 years it was a full scale Organization the one being run by Shawn Smith.
It's not that they called themselves or even thought they were as good as the old Syndicate but the police and FBI classified them once again as the Italian Crime Syndicate. And well, who can blame them, after all they were the same Pilipino and the old fame never left the only thing new was the money they were making and the new glow Verona Beach shined with.
They knew they finally had the power to do big things, they had more than enough people, guns, and connections to do something huge. And what could be bigger than money? Love? Women? Government positions? Being alive? No. Not for this Pilipino fuckers. If you look closely in their eyes I swear you could see Peso signs. On those days you didn't have to be fucking genius to know what they were on to. With the first national bank opening in Las Venturas the bank heist was the only thing on the Pilipinos mind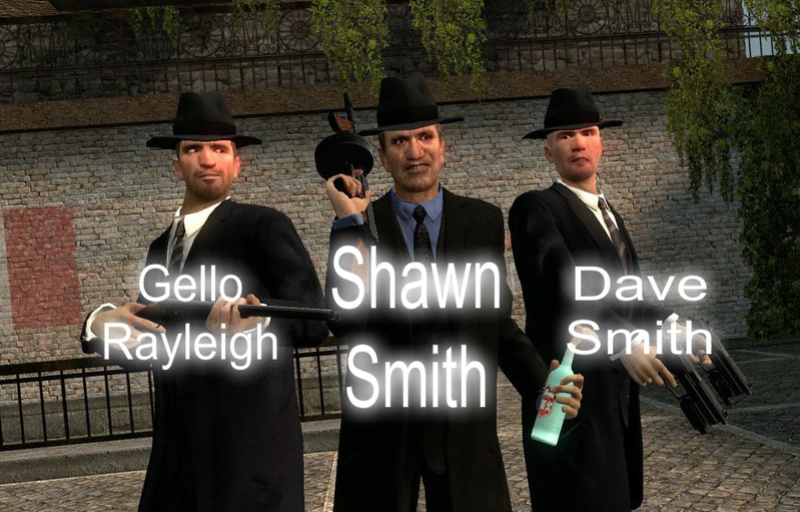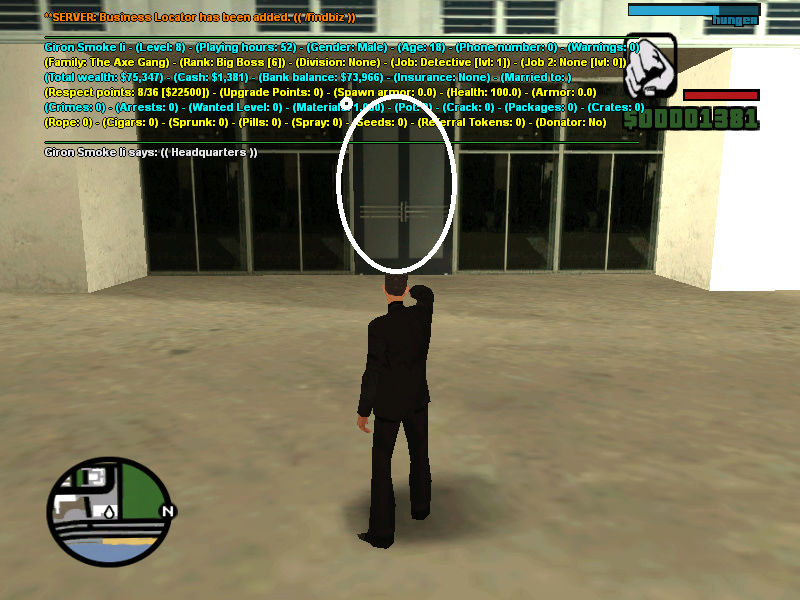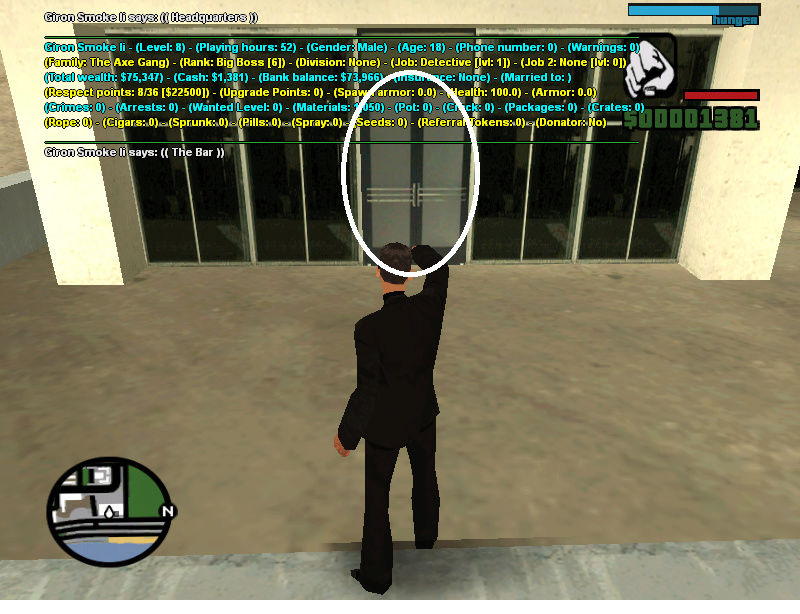 Ranks
                                                           Rank 1:New Kid
                                                           Rank 2:GoodFella
                                                           Rank 3:Extortionist
                                                           Rank 4:Capitano`
                                                           Rank 5:Bise` Mayor
                                                           Rank 6:Mayor                                           
Starting Members
                                                           Leader:Shawn Smith(R6)
                                                           Co Leader:Gello Rayleigh(R6)
                                                           Dave Smith(R5)
                                                           Jean River(R4)
                                                           Jansen Rayleigh(R3)
                                                           Khane Jay(R2)
                                                           Cherry River(R1)                                           
Desired Skins
                                                           Skin ID:98
                                                           Skin ID:111
                                                           Skin ID:112
                                                           Skin ID:113
                                                           Skin ID:125
                                                           Skin ID:126
                                                           Skin ID:127
                                                           Skin ID:192
                                            Family Vehicles     
                                                           Car Color[ID 1]:Sultan(2x)
                                                           Car Color[ID 1]:Huntley(1x)
                                                           Car Color[ID 1]:FCR-900(1x)
                                                           Car Color[ID 1]:Bobcat(1x)
                                                           Car Color[ID 1]:Maverick(1x)                                           
All Rights Reserve
Last edited by Fusco on Tue Oct 04, 2016 2:25 pm; edited 3 times in total (Reason for editing : I Forgot to Put Something because I want to make Sure its Good !)
New Citizen





Posts

: 3


Reputation

: 0


Join date

: 2016-09-29



supported
_________________
Spoiler:

Gello wrote:

Soon to be Director of Federal Department
Added to Junior Helper 6/28/2017 under Allan Aguilar
Citizen





Posts

: 52


Reputation

: 3


Join date

: 2016-09-29


Age

: 20


Location

: Caloocan City , Metro Manila



Supported That Shawn Smith is Good Leader !!





New Citizen





Posts

: 8


Reputation

: 0


Join date

: 2016-09-29



Thanks for your Support i wish someday



Moderator ACcept this Gang Application !! thanks Gello , Jansen and Dave
Change Your HQ That Is A VIP Famed,Find Another HQ And Good Luck Guy's /Supported
New Citizen





Posts

: 24


Reputation

: 3


Join date

: 2016-07-14


Age

: 17


Location

: Malabon City



OK CHANGING HQ Wait For it

/Support hope that you will be accept as a Gang in PH-RP

New Citizen





Posts

: 26


Reputation

: 0


Join date

: 2016-10-08



Developer





Posts

: 19


Reputation

: 2


Join date

: 2016-06-28


Location

: San Andreas



Sige po wait nyo nalang po yung kuya ka sa ingame marami raw pong salamat sa inyo
New Citizen





Posts

: 12


Reputation

: 0


Join date

: 2016-10-07



Charles Or Pawn.....
Eto po ung Website ng mga Skins please po palagay
https://i.imgur.com/7cbasAR.png
https://i.imgur.com/Jrg4WPz.png
http://weedarr.wdfiles.com/local--files/skinlistc/48.png
http://weedarr.wdfiles.com/local--files/skinlistc/47.png
http://weedarr.wdfiles.com/local--files/skinlistc/30.png
Eto na po !!

_________________
Spoiler:

Gello wrote:

Soon to be Director of Federal Department
Added to Junior Helper 6/28/2017 under Allan Aguilar
Citizen





Posts

: 52


Reputation

: 3


Join date

: 2016-09-29


Age

: 20


Location

: Caloocan City , Metro Manila



---
Permissions in this forum:
You
cannot
reply to topics in this forum